Basics & Anatomy
What does a story map look like?
Let's take a look at a story map and highlight all the individual elements and concepts that make this visualization so powerful.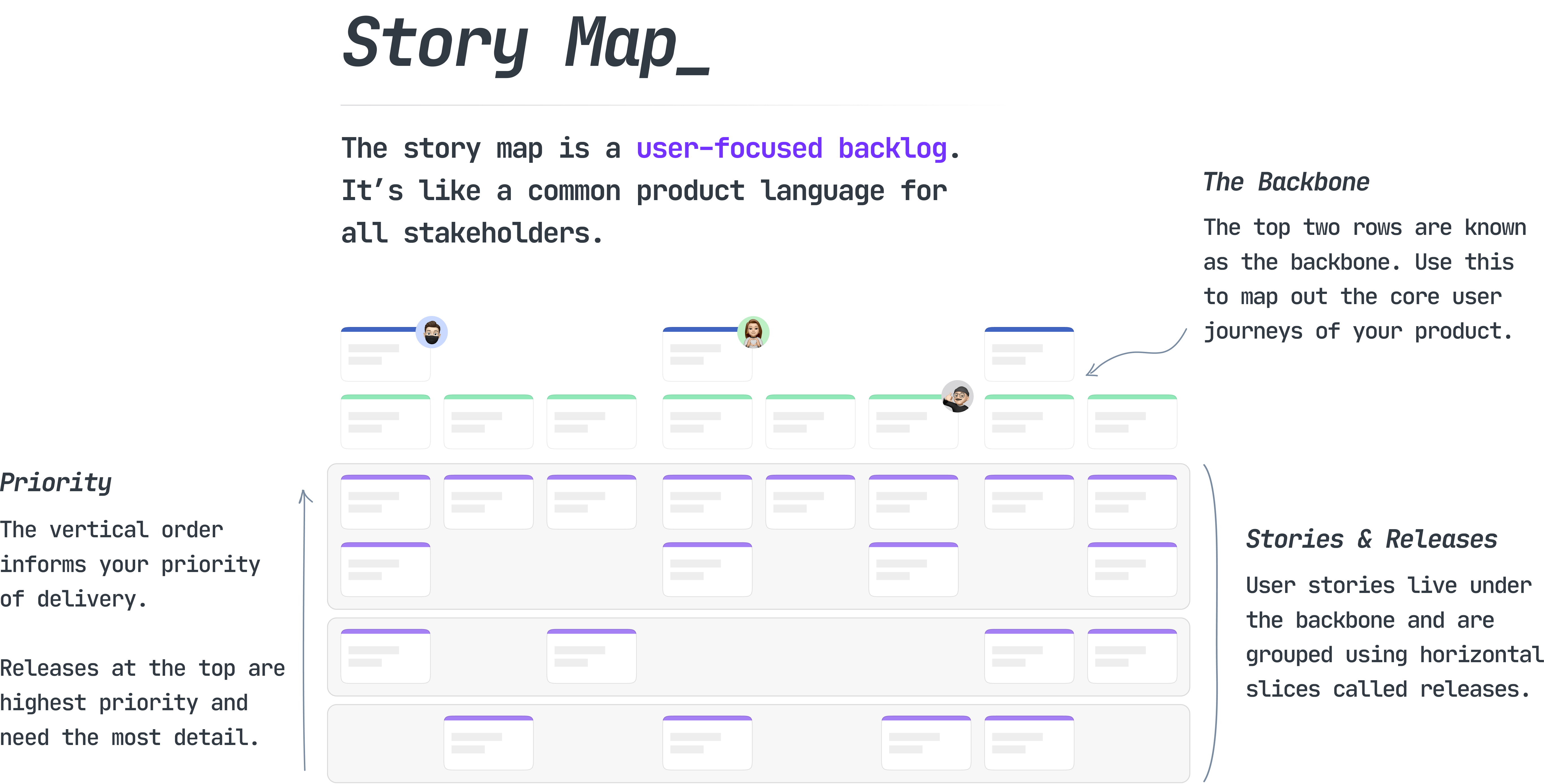 The story map backbone
Running from left to right at the top of the story map is your backbone. This is an encapsulation of the journey that users will take through various activities in your product. To complete the analogy, the backbone is like the spine of a vertebrate. It holds the rest of the skeleton in place.
The backbone is the consistent part of your product. It's not something that becomes "complete" or even has a sense of state like to do, doing or done. It's the integral set of flows within your product that users are undertaking time and time again.
It's the integral set of flows within your product that users are undertaking time and time again.
How is the backbone organized?
The backbone can be broken down into two levels of hierarchy. However, the names of these levels are not consistent in the product world. You might hear "activities", "tasks" or even "epics".
At Avion, we don't think any of these terms describe the intention. In the case of "epic", it's quite a confusing term in the industry, without a true fixed meaning. So, we call the two levels of hierarchy journeys and steps.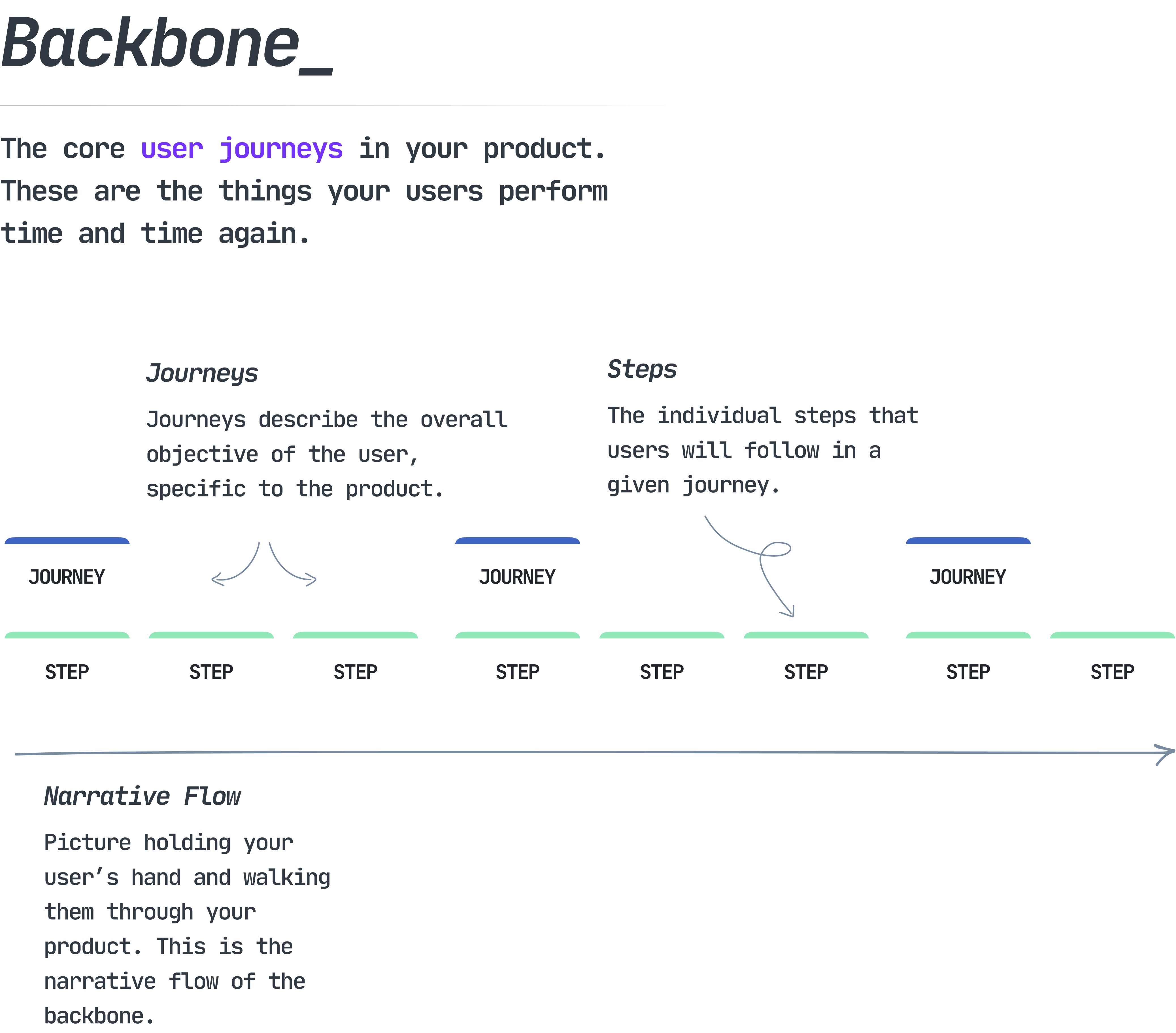 Journeys
Journeys are defined at the top-level of the backbone and describe the overall objective of the user, specific to this part of the product. Many digital products have typical journeys in common, such as:
Sign up / sign in
Reset password
Get support
Purchase product
Search for X
Discover Y
But let's get a bit more product-specific. Let's take a rental booking product, like Airbnb. Aside from the more typical journeys outlined above, what might the other core journeys look like for Airbnb?
Find accommodation
Book accommodation
List a property
Manage listings
Learn about Airbnb
Coming up with these journeys might be an easy task for your team, especially if you already have a product in the wild, or you're lucky enough to have a UX team that has thought about this during research, wireframing and design work.
However, for some teams, this is actually very challenging to figure out. You need to be introspective about your product, but also remain user-focused to understand the journeys that make up your overall experience.
Pitching the level of journeys can be a challenge. What makes something a journey and not a step, or even a story? It depends on the context as always, but try taking a feature and abstracting as far out as you can.
For instance, View accommodation on the map is clearly pitched around the story/feature level, so let's abstract out – List accommodation results might be the next level out. Let's try again – Find accommodation. In this example you might end up with:
Find accommodation (journey)
List accommodation results (step)
View accommodation on the map (story)
Steps
Steps are the second level of hierarchy in the backbone. Steps are listed under each journey in a horizontal pattern. They dictate the literal "steps" that your users will take to achieve the objective of the journey.
The ordering of steps should be fairly logical. Imagine walking your users through the experience of your product step-by-step. Each of the major steps in this exercise will become a step in your journey.
As a generic example, a very simple purchase journey might have the following steps:
View product page
Basket summary
Checkout summary
Make payment
Post-purchase
However, if you had a particularly complex checkout journey, it might be more appropriate to split the journey up, like so:
Purchase (journey)

View product page
Basket summary

Checkout (journey)

Checkout details
Checkout upsell
Make payment
Post-purchase notifications
Likewise, if your basket experience or post-purchase experience were complex, you could split these out too.
There are no hard-and-fast rules as to where you draw the line when breaking down your journeys and steps. You need to take your product's journeys and map out what is most appropriate for you and your team. This can also evolve over time, of course.
Shifting back to our Airbnb example, let's flesh out one of the journeys from above:
Find accommodation

Search for a place to stay
Browse listings
View a listing
Stories and features on a story map
Your stories in the story map make up the scope of your product's functionality — it's the full product backlog. But importantly, as you might have already noticed, stories need to be rooted under a step.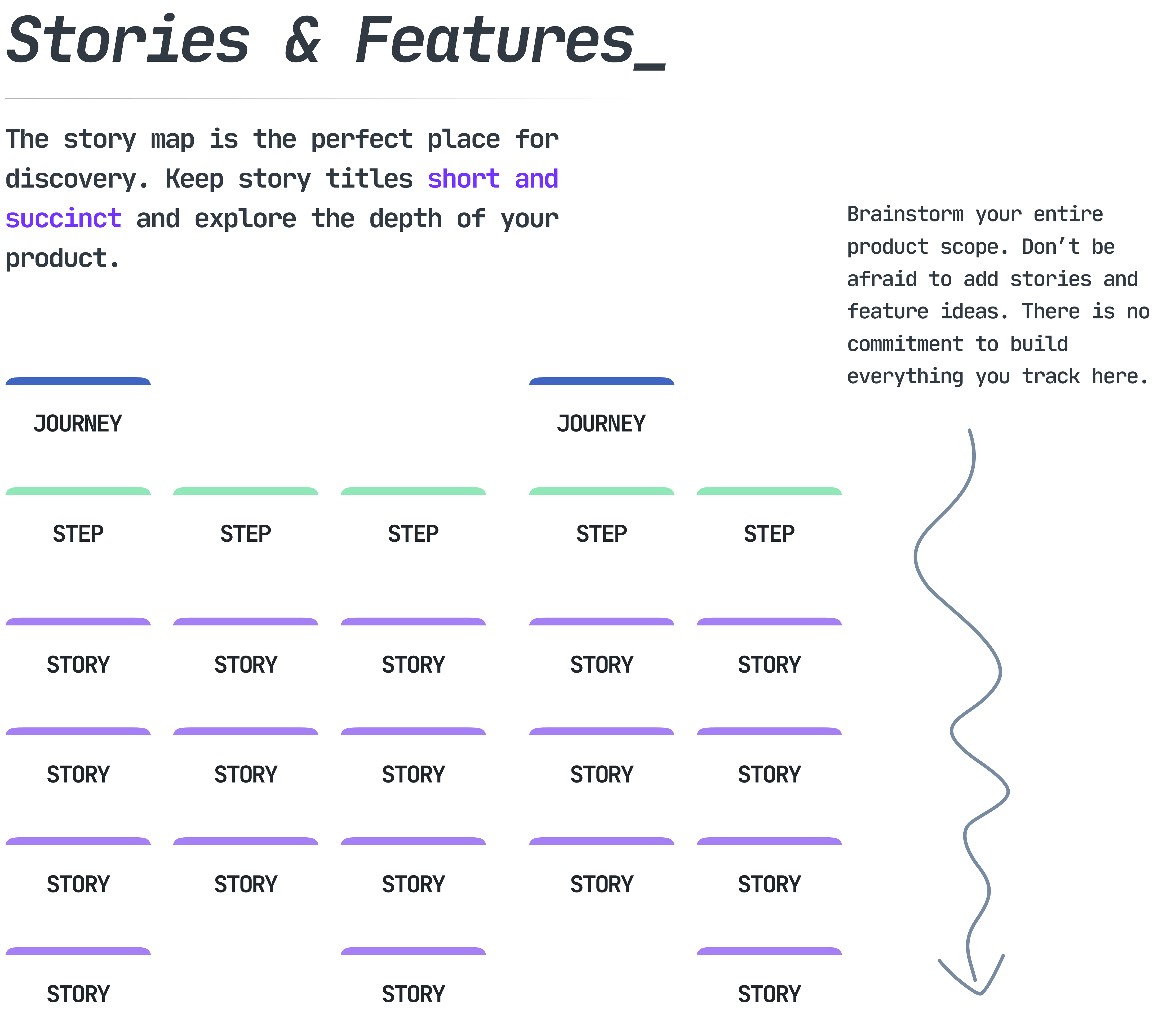 Rooting stories under a step forces you to understand where and how a user will interact with the product in a very real sense. It creates a product backlog that is contextual. This will allow your stakeholders to understand the story-level functionality, as well as where the interaction happens, how the user got there and where they are going next.
The story map is an ideal place to brainstorm feature ideas for your product. It will become your entire product backlog, filled with:
The features you will need to build for success (essential functionality)
The left-field features that you might one day build
Fuzzy, future visionary features from stakeholders (crazy CEO, anyone?)
By allowing your story map to hold this information, you will end up with a product backlog that can inform and work alongside your roadmap and product vision.
So with all this information in one place, how do you ensure it's not an overwhelming giant? How can you structure the story map to maintain the view of the "wood for the trees"? How can this story map not just end up like your current Jira backlog? Cue releases…
Slices / releases
One of the most powerful aspects of a story map is the concept of slicing. A slice is a horizontal zone across the story map that holds all the required functionality that you need to build to deliver on a desired outcome or outcomes.
It's powerful because the axis of the slice "cuts" across the entirety of the user experience and enables your team to plan more holistically.
At Avion, we call these slices "releases". We chose releases because the horizontal zone should make up a deliverable end-to-end chunk of functionality that gets released to users as one. We felt that the term releases encompases this perfectly.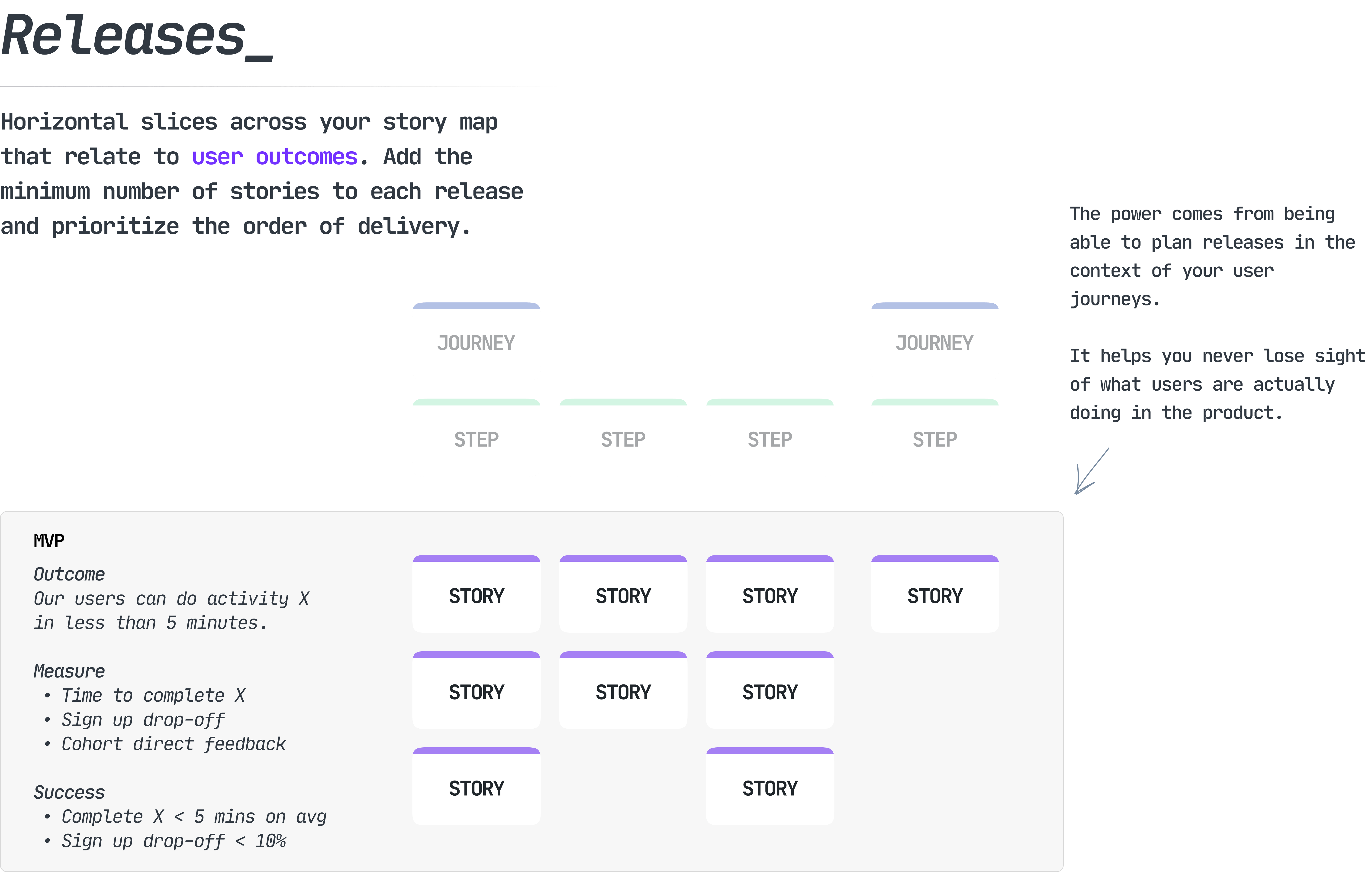 Releases also have a vertical order. They run from top to bottom in order of importance. So the uppermost release would be the next priority for the team, all the way down to the bottom release (we call this Unplanned), which is all the features that aren't yet planned to be worked on.